The staff team at SBC cover a very wide range of roles and activities, all of which contribute to our vision to be a church for the whole community. You can find out more about us on this page.
I work in the church office concentrating on the statistical, information gathering and financial aspects of church administration, though cover the full range of office duties as necessary.
I am married with two adult children. I enjoy concerts, walking and watching the Saints.
I am the church cleaner. I am a helper in the Toddler Group on Tuesday mornings and in Fire! Young Church. God has given me the gifts of dancing and singing.
I am SBC's office administrator and co-ordinator of the New Dawn Child Contact Centre. I have been part of SBC for over 20 years.
I am married to Brian and have two adult daughters.
I enjoy singing and crocheting in my spare time.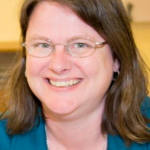 Naomi is the Church's Children & Family Worker.